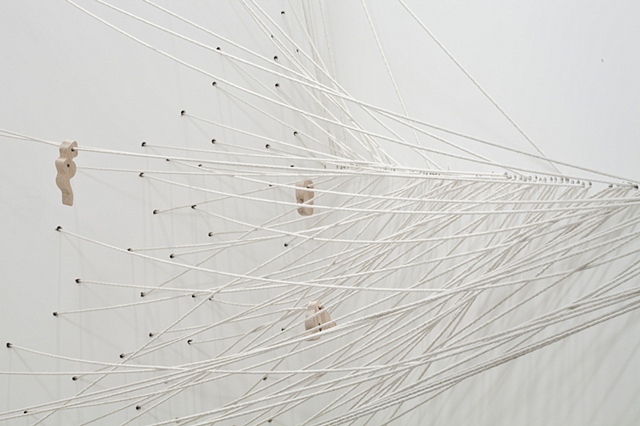 When I arrive at my studio I drop my bags, coat and things from the outside world. I sit at a wooden drawing table passed down from my grandparents to my father to me, scan across 30 or so sketchbooks lined up in chronological order and open the one currently filling up.
I look at the men's suits and hats, the jars of items from the beach set in front of the window, the white parachute and the box that reads: "tonsil swabs (unused), American flags made in China, red things, marching hat."
I think about the three, four, five projects I am currently working on. I choose one or start something altogether new.
I wonder what mark, what shape, what idea will make a difference now, today?
With the deterioration of the environment, the political wars, the increasing technological advances and divides, and the constant clashing cultures and beliefs, what will have an impact? In the middle of chaos perhaps silence and clarity can resonate.
My artwork speaks about silence, meditation, poetry, storytelling, the environment, through the lens of personal experience and the process of sculpture, installation, performance and video.
Home page photograph by Elon Schoenholz.